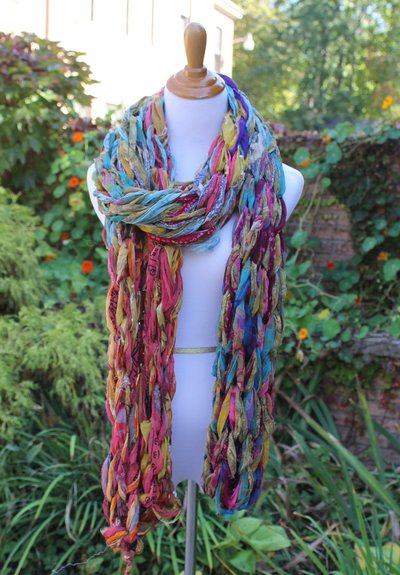 Arm Knit Scarf Kit
Provided By: Darn Good Yarn
www.DarnGoodYarn.com
Reviewed by Julie DaMario, Editor for AllFreeKnitting
One of my favorite ways to accessorize is through beautiful knit scarves and cowls. I pair them with sweaters, dresses, skirts, and more. Scarves are a great way to add a fun bit of personality to whatever you're wearing as well as a practical way to keep warm. The only problem is that I can't seem to make enough to satisfy my wardrobe!
Darn Good Yarn's Arm Knit Scarf Kit solves that problem entirely. This amazingly gorgeous and totally unique scarf kit allows you to create a one-of-a-kind accessory in just 30 minutes. Because each kit features an assorted variety of chiffon ribbon yarn, you're sure to produce a fashionable accessory that no one else has.
Each Arm Knit Scarf Kit includes three hanks of chiffon ribbon yarn, totalling over 80 yards for a long scarf that can be wrapped multiple times around your neck. The chiffon ribbon included in each kit is a delightfully light and airy fabric that allows you to stay warm without getting overheated. The scarf is arm knit with three strands held together, resulting in a wonderfully lightweight and flouncy accessory. It's the perfect accessory for year-round wear.
The chiffon ribbon yarn included in each Arm Knit Scarf Kit comes in an assortment of vibrant colors, all of which are produced in a small co-op in Northeast India. Not only does the production of this ribbon create beautiful handmade garments, it also produces jobs for the local community. The Arm Knit Scarf Kit from Darn Good Yarn allows you to make a unique scarf while helping impoverished regions throughout the world. Treat yourself (and feel good about doing so) with the Arm Knit Scarf Kit from Darn Good Yarn.
Your Recently Viewed Projects