75+ Free Baby Knitting Patterns
Check out these free knitting patterns for babies and create treasured items for the little ones in your life.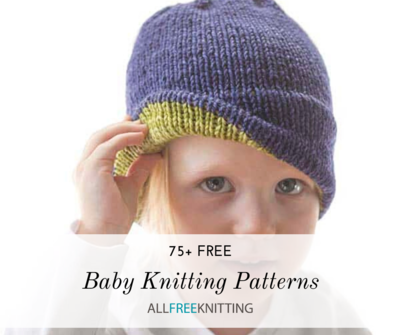 Knitting for babies is a favorite activity among knitting enthusiasts, and for a great reason. From hats and booties to baby blankets and sweaters, everything is smaller and quicker to complete... and you can take advantage of all these wonderful knitting designs by browsing these free baby knitting patterns!

It certainly doesn't hurt that baby knitting patterns are so darn cute, so you're sure to not get bored while you knit. If you're knitting for a newborn, you can make a cute hat using the Tiny Angel Hat pattern, or you can knit them a Maile Sweater. There's something for every occasion in this collection. Once you see all these pint-sized knitting designs, the hardest part will be deciding which ones to make. If you have a little one in your life, these patterns cannot be beaten. Each free newborn knitting pattern is so sweet and will make your wee one feel nice and cozy.

Whether you're interested in making a pair of baby booties, free knitting patterns for baby sets, knit hat, knit sweater, snuggly baby blanket, or anything in between, we've got you covered. The possibilities are endless when it comes to these can't-miss knit baby patterns.

Sign up for our free email newsletter for more amazing patterns!
Table of Contents
Precious Knit Baby Booties Patterns
If you've ever wondered what to knit for a baby that absolutely any and all mothers would love, it's baby booties. Keep baby's feet warm and snuggly with these precious knit baby booties patterns. From simple and traditional to fun and embellished, there's a wonderful free knitting pattern for babies for everyone's taste and skill level!

These baby knitting patterns will help you keep your little one's toes cozy and happy. Plus, knitted baby booties make great baby shower gifts.
Free Baby Knitting Patterns for Hats
It's not that hard to keep baby's head and ears warm with these absolutely adorable baby knitting patterns. These comfy caps are protective, stylish, and easy to make!

Because these knit baby hat patterns are so small, you can churn them out quickly and have a ton of options for your baby. Or, work up these baby hat knitting patterns as thoughtful gifts for friends and family!

There are so many adorable free newborn knitting patterns to choose from. The hardest part will be deciding which free knitting pattern to work up first.
Sophisticated Knit Baby Sweater Patterns
Why keep buying baby sweaters? We've got everything from the formal Top Down Vintage Baby Cardigans to the more casual Simple Baby Hoodie.

Whatever free knitting pattern for babies you choose, your little one is sure to be heading out in style with these knit baby sweaters. You might even find yourself jealous of how great they look! Knit baby sweaters are a great way to keep the little one warm while still making sure she looks absolutely adorable
Free Baby Knitting Patterns Sets
What could be better than an adorable matching set for your bundle of joy? These baby knitting patterns range from the traditional Eyelet Rib Set to the fun Just Ducky Hat and Socks pattern.

The cutest part about baby sets is that you get a few baby knitting patterns of the same theme without having to do any digging. You'll adore the sets listed here and these free knitting patterns for babies will truly stand the test of time.
Cute & Cuddly Knit Baby Blanket Patterns
Make something warm and snuggly for baby to cuddle up with by taking on one of these cute little baby blanket knitting patterns. Knitted baby blankets are the gifts baby will never outgrow, and will both look good in the nursery and keep him warm, toasty, and feeling protected at night.

These blankets are what to knit for a baby if you want them to keep it forever and become a family heirloom passed down from generation to generation. Free newborn knitting patterns are truly a special way to express your love for the newest addition to your world.
Your Recently Viewed Projects