How Many Stitches to Cast On for a Hat
These charts will show you just how many stitches you should be casting on for your next hat pattern!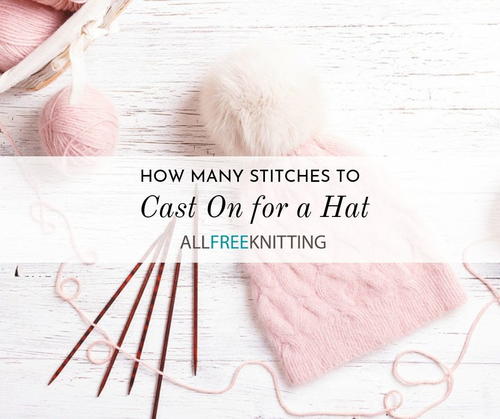 When you're knitting your first hat, the hardest part can just be planning the whole thing out. When I did my very first hat, I had never even attempted knitting in the round before, so it was quite the adventure. Ultimately, I did end up with a hat that fit, but it was definitely on the larger side of things.

Knitters and knitwear designers like to learn by trial and error, and I've definitely knitted enough hats in my time to know a thing or two about where casting on a hat can go awry.

Below is our complete guide to figuring out how many stitches you should be casting on for your next hat. Whether you're creating a brand new pattern from scratch or resizing an existing pattern, the charts and resources below are just what you need in your knitting toolbox.

Join Our 160,000+ Fans And Sign Up to Receive Your FREE eNewsletter!
But First: Resources for Knitting a Hat
Knitting your first hat can be a big undertaking, but if you're anything like the AllFreeKnitting staff, you're going to become addicted to knitting them after your first one. There are a few things about knitting hats, though, that make them a unique undertaking in knitting. If you're knitting your very first hat, here are some resources you might need:
More Knitting Resources
Knitted Hat Size Chart
Different noggins call for different size hats! While most patterns will specify in their notes the intended size and/or age range, it can sometimes be hard to tell if a hat is going to fit perfectly until you actually start knitting it. Below is our knitted hat size chart that will show you the recommended sizes for hats for both the brim and the height of the hat.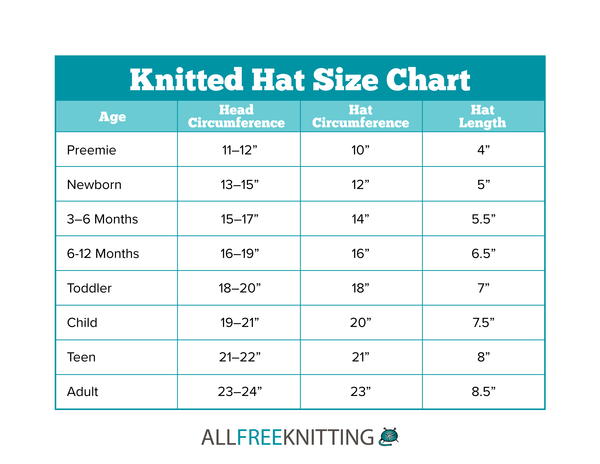 That said, this chart is only a rough guide for sizes based on age range. Everyone's heads are a little bit different, and if you're able, we recommend measuring the head of the person the hat is for to get a better idea of the size you should be knitting.

Important Note: Remember that knitting is very stretchy. We recommend going one inch down from the head measurement.
How Many Stitches Should I Cast On?
Alright -- you've figured out the size your hat should be. Now comes the tricky part -- figuring out how many stitches to cast on. Why is this so tricky, you might ask? Well, it comes down to several different factors that can all determine the final count of stitches your particular pattern will require.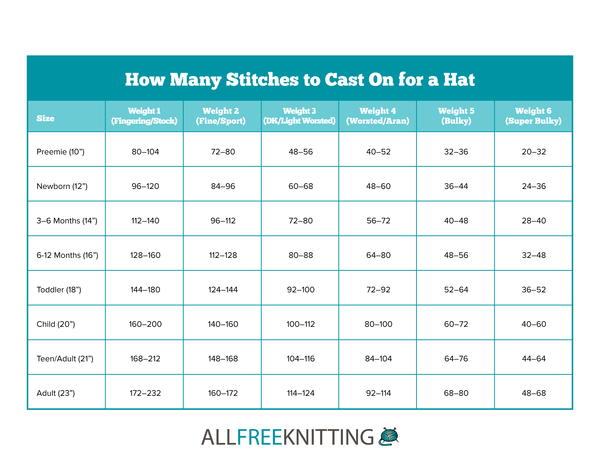 Phew.

Once you've factored in everything you need in order to cast on, it's time to consult this handy chart below. Based on the yarn weight and the hat size of your choosing, do your calculations and then check this chart below to see if your stitch count matches these rough estimations of the number of stitches for the hat you're trying to make.
Your Recently Viewed Projects