How Many Stitches to Cast On for a Blanket
Learn how to knit a blanket from the very beginning with this handy printable chart!
We don't always have the luxury of relying on a written pattern to get the result that we want. It's possible that you've found yarn for which you just don't like any pre-written pattern, or you have a set stitch pattern in mind but no clue where to begin with it to create a knit blanket. By using the standard dimensions of a blanket from loveys to California kings combined with the standard gauge of the different yarn weights, you can actually figure out how many stitches to cast on for a blanket.

We've taken the guesswork out of the situation for you and done the math. From fingering weight to jumbo weight, using the chart below, you can figure out how many stitches to cast on for a blanket. Using this information, feel free to design a pattern all on your own, or simply compare it against the pattern you've already put together, because knowledge is power. Just download the chart below and refer back to it when you need.

Sign up for our free email newsletter for more amazing guides and patterns!
But First: Resources for Knitting a Blanket
It's not uncommon for beginner knitters to make blankets, since their simple construction is appealing to the fresh stitcher. These resources are going to be your best friend when you learn to make your first blanket, so be sure to familiarize yourself with them before moving forward.
How Many Stitches Should I Cast On?
There's more to just the dimensions of the blanket that need to be taken into account before you decide how many stitches to cast on for a blanket. The chart below offers a range for that reason.
Yarn Weight

A yarn's weight is determined by its wraps per inch, which, in turn, will determine (along with your needle size) what your gauge is. There's no way to be sure of how many stitches to cast on until you know your gauge, because yarn weight categories often span a range of stitches per inch. If ever in doubt, check your yarn label and use the needle size they recommend to get your rough gauge.


Needle Size

Just because you're using a worsted weight yarn doesn't mean that you're married to the size 8 needle, however. Maybe you want to use size 7 or size 9. Just make sure the needle size is roughly appropriate for the weight of your yarn, and remember that if it's a bit smaller, you'll end up with more stitches per inch in your gauge than if you'd used the recommended needle size.


Gauge

This is all to lead up to the most important note: check your gauge. Even if you have the exact recommended needle size on your yarn label, you may find that your own personal tension (or the tightness at which you knit) can affect your gauge. Simply reduce the number of stitches you plan on casting on to something manageable for a swatch (10-20 stitches) and try knitting a few inches of fabric. Measure how many stitches per inch and compare it to your yarn label before moving forward. Check out how to knit a gauge swatch here for a more in-depth explanation.


Pattern Repeats

If you plan on knitting something a little more complicated than just good ol' garter stitch or stockinette stitch, you have to keep in mind the number of stitches per repeat in your stitch pattern, as well as the number of stitches you may want to add for your border (and double it--because your border would be on both sides of your blanket)! The number of stitches that you cast on should accommodate every stitch repeat you use. For example, if there are 12 stitches in each repeat for the stitch pattern you chose, you'll want to make sure the number of stitches you cast on is a multiple of 12.
Knowing this, say you'll want to have 120 stitches for 10 repeats of your 12-stitch pattern. Great! The math doesn't end there. If you want to add a seed stitch border to your blanket of 10 stitches, that's 20 more stitches you'll want to cast on to accommodate that border. Therefore, in this example, you're looking at casting on 140 stitches for your blanket. It always helps me to draw out my rough blanket concept so I know exactly what elements to keep in mind.


The End of the Blanket

No matter which end you cast on, the shorter end or the longer end, if you want roughly the correct size blanket, you're going to have to measure your work as you go to know where to bind off. For simplicity's sake, the chart below tells you how many stitches to cast on if you're casting on the shorter end of the blanket. For instance, you'll be casting on the 52" side of the throw, or the 96" side of the queen.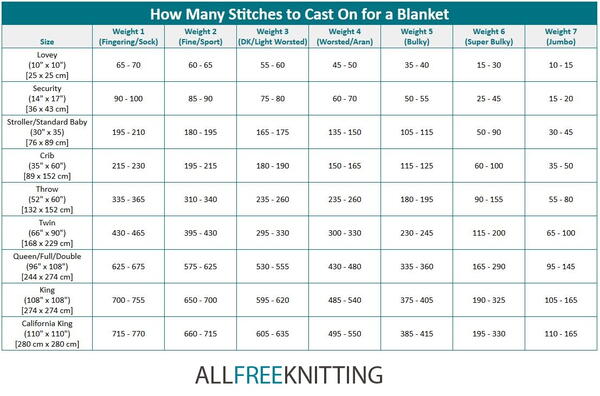 How to Print the PDF

Printing this is as easy as 1-2-3! If you're not familiar with printing PDFs, here's the step-by-step, along with a few tips.

1. Click the teal button that says "Download This Chart!" Or, just click this link here to download.

2. Find and open the PDF.

Pro tip: You may see the download appear at the bottom of your browser window, and you can open it from there. Or check wherever your downloads are set to save to (the Downloads folder is often a default location).

3. Click the "Print File" button, choose the printer, choose how many copies you want, make any additional adjustments needed for personal preference, and click the "Print" button.

4. Put this resource in your knitting binder, on the wall next to your knitting station, or wherever you'd find it the most helpful!
About the Author

Kristi Levy combines her passions of writing and knitting together as an editor of AllFreeKnitting.com. She's a firm believer in the merits of trying something new with each pattern you knit so you never stop growing as a fiber artist. Find more tutorials, collections, and original patterns by Kristi here: Kristi Levy
Your Recently Viewed Projects