Knitting for Beginners: 50+ Easy Knitting Patterns
These simple knitting patterns are perfect for beginners. You can create a beautiful knitted item regardless of your skill level.
By:
Caitlin Eaton, Editor, AllFreeKnitting.com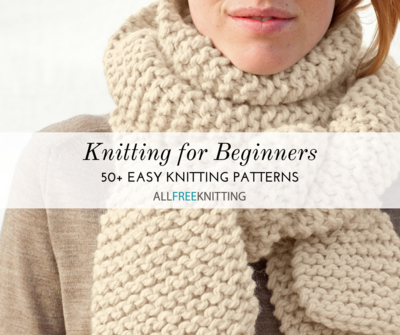 If you're new to the knitting world, that doesn't mean you shouldn't be able to create beautiful, handmade garments for your friends and family. Once you learn the basics of knitting, there are plenty of free knitting patterns for beginners for every season.

Whether you're looking for easy knitting patterns like hats, or if you're hoping to snag a few easy scarf knitting patterns, you're bound to find something you like in this collection.

Do you have a birthday party coming up, or a special event like a wedding? Use that opportunity to learn a new skill, practice some easy knit stitches, and make your own gift! Beginning knitting doesn't have to be difficult; once you know the basics (with the help of some free tutorials), you'll find that there's a wide variety of (free!) easy knitting patterns to suit all tastes.

But First!

Learn how to knit the most basic stitch pattern, the garter stitch, with this easy-to-follow video!

Sign up for our free email newsletter for more amazing patterns!
Easy Hat Knitting Patterns
The difficulty about beginning knitting is that you can feel limited in what you can accomplish. Don't feel this way! There are plenty of free knitting patterns for beginners that are simple enough for you to tackle and feature easy knit stitches, even if you don't know every knitting technique in the book.

This collection of hat patterns is a great place to get started. Once you've knit your way through easy knitting patterns, you're bound to be able to try something a little more challenging! If you're not familiar with circular knitting needles, don't worry. Many of the patterns featured below use straight knitting needles. You'll just need to seam them up the back to create a nice round shape. 
Easy Scarf Knitting Projects and Patterns
The best friend of any knitter, this collection of basic knit scarf patterns are particularly fun for beginners looking for easy knit stitches.

Depending on the pattern, you might be able to knit your own stylish accessory - for any season - in a matter of hours this weekend! Once you learn how to knit a scarf for beginners, you'll never look back.

Scarves also make great gifts for a variety of occasions, whether it's a birthday party, a holiday gift, or a handmade present for a special friend.

I know you'll love these free knitting patterns! Free and simple - what more could you ask for in a scarf? Learn how to knit a scarf for beginners today and a wide array of beautiful patterns will be at your disposal.
Free Afghan Knitting Patterns for Beginners
While quick knitting projects are fun for taking with you on the go, larger projects are wonderful for practicing knitting skills and can be extremely rewarding, too. In this collection of beautiful afghan patterns, you'll find a group of blankets composed of simple stitches that make a big impact on your home decor.

Many of the blankets below feature the garter stitch, which is just the repeated knit stitch over and over again. As you continue knitting the same easy knit stitch, the motion will become more natural and your speed will increase. At the end of all that practice, you'll also have your own homemade afghan! These easy knitting patterns are more than worth the effort.
Even More Easy Projects for Beginners
The fun doesn't stop there. Here, we've compiled a collection of bonus free knitting patterns for beginners so you can perfect the art and create something fantastic all at the same time.

You'll be astounded at how simple these patterns are, and probably find yourself wondering why you didn't start knitting sooner.

Maybe you've worked through all of our free knitting patterns for beginners but aren't quite ready yet to move onto more complicated patterns. These are your next projects, you eager knitters. With these beginner projects and patterns, you'll get the hang of knitting and master some easy knit stitches in no time.
Learn to Knit: Tutorials for Beginning Knitting
Before you can tackle any of these beginning knitting patterns, you're going to need to learn the basics - including some easy knit stitches!

Some of you might have already learned the essentials, but a refresher never hurts. With this collection of straightforward knitting tutorials, you should have no problem completing any one of the beginning knitting patterns below. Most of our tutorials come in the form of very helpful videos, so you can pause, rewind, and go at your own pace while learning how to knit.

Ready your needles, beginners, and get ready to learn one of the most fun skills ever!
Best Knitting Needles for Beginners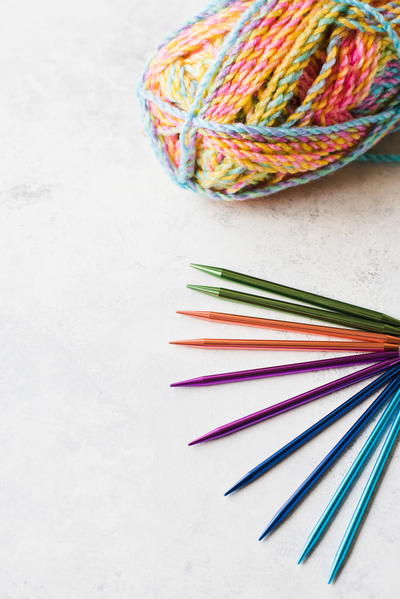 Now that you've looked through all the wonderful knitting patterns for beginners, you might be asking yourself, "What kind of knitting needles are best for beginners?" We recommend a pair of large, straight knitting needles. When you're first starting out, it's best to start big. Bigger needles and bigger, bulkier yarns are much easier to work with and will potentially save you a lot of frustration in the long run.

US Size 13/9mm straight knitting needles are a good choice. These needles won't hurt your hands the way smaller sizes might when you're just starting out. You may find practicing on circular needles works best for you. You don't only need to knit in the round when using circular needles – you can knit regular items on them – and the shorter size makes them easier to control, so it might be worthwhile to invest in a pair of circulars as well.

Two additional sizes used most often are US 8/5mm and US 10/6mm. We recommended first buying these three sizes and then collecting other sizes as needed.
What Knitting Needles to Use?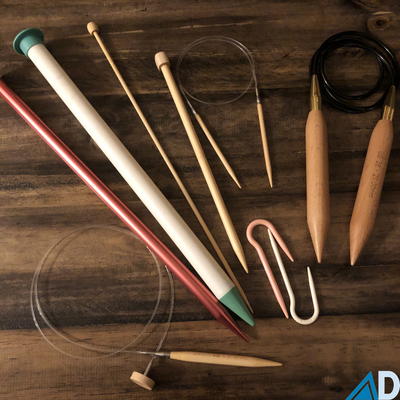 There are many different types of needles, but if you're looking for a budget-friendly option for your knitting starter kit, we recommended aluminum or plastic. However, keep in mind these materials can be quite slippery and your knitting stitches can easily slip off your needles. According to the experts at marthastewart.com, bamboo or wood needles can be great choices for beginners since they're comfortable and your stitches will not slide off as easily.

As the article states,
"Needles are made of different materials, including metal, wood, bamboo, and plastic. The material you choose is a matter of preference, but beginners may like working with wood or bamboo needles, because they are a bit flexible, are comfortable to use, and stitches don't slip off them as easily as they do from metal or plastic needles."

Check out what one of our favorite knitting bloggers had to say about her needle preference:

"I think beginners do best starting with a medium weight yarn (worsted is good) and medium size straight needles, maybe somewhere between a US 7 and US 9. Anything too small is hard to see what you're doing and anything too big can be awkward to handle. It's up to you what needle material you prefer, I'm a bamboo lover, but you might have to try more than one brand before you find what you like. But whatever you do, avoid furry or fluffy yarn like chenille, eyelash, or mohair, you need to be able to see your stitches!" – Cassie May, littleredwindow.com
The Knitting Stitches Library - Easy Knit Stitches for Newbies & More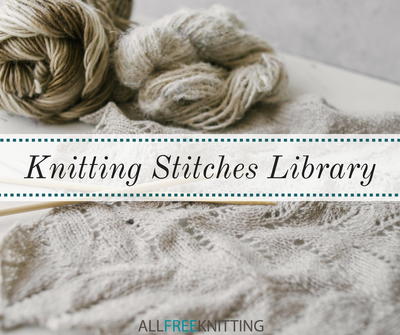 Learning to knit is a lot easier one stitch at a time. That's why we compiled all of our videos that help you learn the different types of knitting stitches all in one place!

Most knitters begin with garter stitch and stockinette stitch. These two stitches are by far the most common in knitting, and once you learn them, you can master just about any pattern out there. But they're really just the tip of the knitting iceberg. Whether you want to try lacing or even cables and ribs, there's a stitch here that will help you take your knitting to the next level.

Plus: All of the stitches in the Knitting Stitches Library have videos to help you learn!
If you are brand new to the art of knitting, be sure to check out our extensive list of knitting supplies for beginners. This article tells you exactly what to buy to get started as well as suggestions from some of our favorite knitting bloggers. Don't forget to scroll all the way down to the bottom to download the free shopping list! Beginning Knitting Supplies: The Ultimate Knitting Tools List
Free projects, giveaways, exclusive partner offers, and more straight to your inbox!
Tags / Related Topics
Your Recently Viewed Projects
Images from other crafters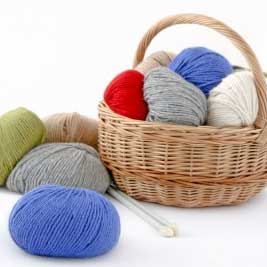 Something worth saving?
SAVE all your favorite patterns
ADD personal notes
QUICKLY reference your patterns