24 Useful Things to Knit
You never thought these cool knitting projects existed, but yes, knitting can be practical.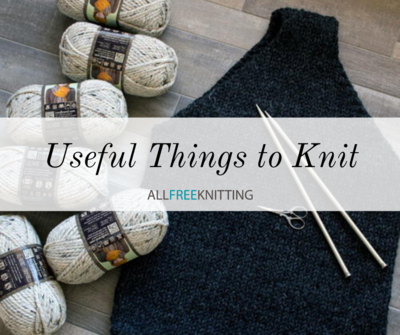 You'd be hard-pressed to find someone who has been knitting for years who is bored by her own knitting—us knitters are a very passionate bunch—but it may be easier to find a yarn artist who feels like her finished projects are taken for granted. It's not unusual to finish knitting an adorable baby sweater for an expected daughter just for it to get lost in the sea of mass-market baby sweaters churned out by machines that the mother was gifted that are equally as cute. Alternatively, maybe she's knit her home a gorgeous throw, just for it to mostly live at the end of the couch in the living room, neglected by the kids and husband in favor of the big fluffy microfiber blanket you got from Wal-Mart for ten bucks.

While it's arguable that the things us knitters make on a regular basis, from sweaters to afghans to everything in between, are all quite useful, we want to focus on practical things you perhaps didn't even realize you could knit, especially when your usual endeavors are beginning to feel like a bit of a waste of energy. These easy knitting projects for gifts would be especially great for the receiver who has never been particularly enthused over the various scarves you've labored over for them in the past (perhaps it just never suited their tastes, or they have plenty of clothes and accessories lying around), or for the bored knitter who's just worked up his fourth dog sweater and feels there remains no other use of his yarn.

For more great projects like this, subscribe to our free email newsletter!
Table of Contents
Your Recently Viewed Projects