26 Straight Needle Knitting Patterns You Need
All of these free knitting pattern use two needles. What are you waiting for? Find your next straight knitting needle pattern today.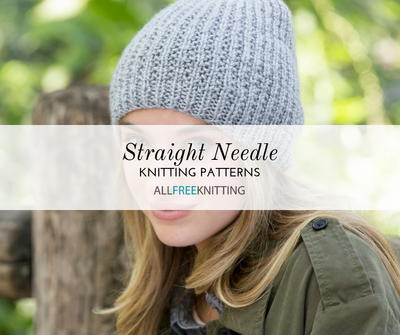 Straight needle knitting patterns are a mainstay of the knitting world. Most beginners learn how to knit on straight needles, and even advanced knitters love their straightforward simplicity.

Chances are good that you have straight needles in a variety of sizes just waiting to be put to use. But while it's a safe bet that most scarves are knit on straight needles, patterns with instructions on how to knit a hat with straight needles can be much harder to find, and knit sweater patterns harder still.

If you're on the hunt for these elusive patterns, you've come to the right place. Maybe you're a beginner still intimidated by knitting in the round, or maybe you're a seasoned veteran who's just not interested in dealing with double points and stitch markers at the moment. Whatever the reason, we've got you covered. These straight needle knitting patterns will are good for more than just knitting a hat with straight needles.

For knitters who are just starting out, the different types of knitting needles can be intimidating. If you're not quite ready to dive into the world of DPNs, circulars, and magic loop, we don't blame you! These straight needle patterns are perfect for both novices and experienced knitters, so you can experiment and find the best piece for your particular needs and skill level.

If you love these patterns, be sure to subscribe to our newsletter to get amazing knitting patterns like these delivered to your inbox every day!

These hat and sweater patterns range from the simple to the sophisticated, all of them wonderful additions to any wardrobe.

PLUS: Check out the video pattern below for an AllFreeKnitting Exclusive pattern!
Table of Contents
Your Recently Viewed Projects