10 Knitted Capelet Patterns
These free knitting patterns for capelets will leave you wondering why you haven't knit one yet!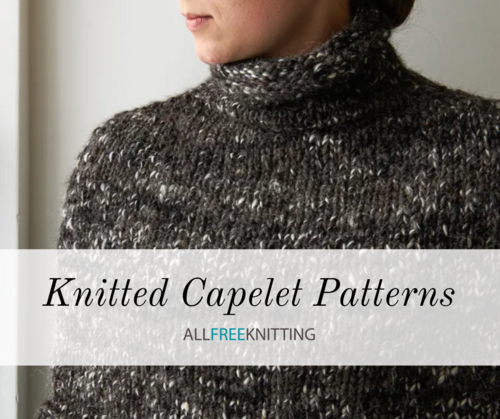 When you think of popular knitting patterns of years past, ponchos certainly had their time in the sun. One type of pattern that has never picked up quite as much steam is its younger sister, the capelet. Knitted capelet patterns, for the uninitiated, are essentially mini ponchos, which usually cover less of the body and serve to warm mainly the shoulders and upper arms. Sometimes they're knit with hoods, and sometimes with turtlenecks, but they all ultimately share the same quality of being a smaller, more manageable poncho.

Knitted capelets are great for people who don't have the time or patience to tackle a full poncho, or who otherwise just don't find themselves needing the extra warmth all the way down their arms. It certainly doesn't hurt that, since you never see a knitted capelet around, you'll stand out from the crowd as a fashion-savvy free-thinker. Personally, I just love how they exude witchy vibes. Check out these knitted capelet patterns to see if you'll fall as in-love with them as I have!

Sign up for our free email newsletter for more amazing patterns!
Your Recently Viewed Projects