16 DIY Leg Warmers and Boot Cuffs
These toasty knit leg warmers and boot cuffs are a perfect way to warm up your cold-weather wardrobe.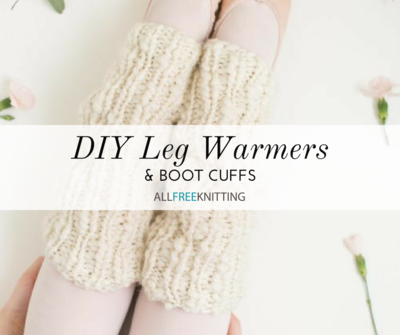 Are you sick? Is the circulation to your legs exceedingly poor? Maybe you're a dancer, or you love to rock the 1980s look. Maybe your best friend sported them recently and you could stop staring. Whatever the reason, if you're looking for boot cuffs and leg warmers, you're not alone. These little accessories have become a big fashion trend, and the stores are taking advantage with sky-high prices.

Why not knit them yourself? In addition to being much cheaper, DIY leg warmers and boot cuffs are among the quickest easy knitting projects imaginable, and they offer a degree of customized creativity you'll never find in stores. Knit flat or in the round, DIY leg warmers offer a simple and flexible canvas on which to imprint your own personal style. Practice your seed stitch knitting, cozy up to a new cable knitting pattern, or experiment with hand-painted or self-striping yarn. Whatever style statement you choose to make with them, we know you'll enjoy this collection.
What's your favorite stitch to use for leg warmers?
Your Recently Viewed Projects